New woodland sculptures unveiled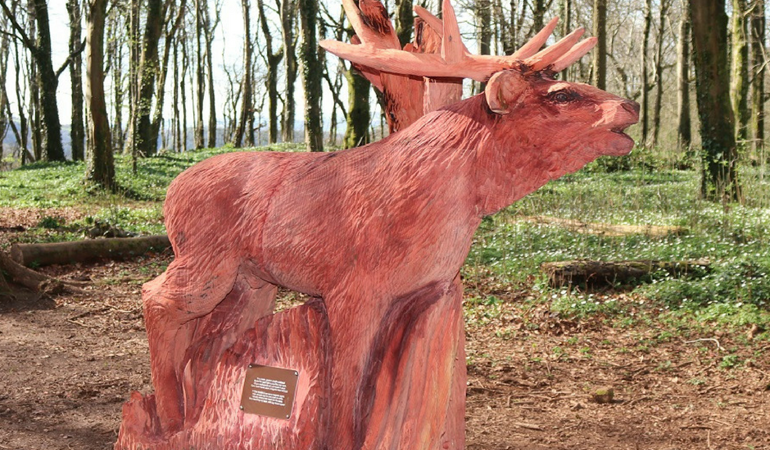 As a taste of spring finally arrives in Wales this week, families and walkers in Fforest Fawr, Tongwynlais are welcomed by a host of new woodland sculptures.
Natural Resources Wales (NRW) commissioned artist Simon O'Rourke to carefully craft 10 animal sculptures from a redwood tree, which have been installed along a walking trail. 
The new additions feature wildlife which would have roamed the forest historically, but are no longer found there. Each one features a poem, telling the story of the forest's history and its wildlife. 
Before commissioning the art, NRW asked school children for suggestions, and this idea was chosen as the final theme. 
The new family of sculptures replace existing carvings on the trail which last year had to be removed as they become rotten over time. 
A few of the old carvings still remain on the trail and will shortly be renovated. 
Mike James, Woodland Manager from Natural Resources Wales said: 
"Fforest Fawr is a fantastic place to visit, and already attracts families, walkers, cyclists and horse riders from far and wide. 
"We hope people will enjoy our new sculpture trail, and the woodland characters will bring to life the story of the forest, its wildlife and its history. 
"And with the story comes a strong message – the importance of looking after our environment and our forest so the wildlife which currently live there can continue to thrive for years to come." 
Between the 8th-25th May, NRW will also begin work to upgrade the footpaths along the sculpture trail to accommodate new visitors to the trail over the summer.  The footpath will remain open during this time. 
In September, work is due to begin to remove approximately 4,000 diseased larch trees. During this time, some sections of the forest will have to close to allow the work to take place, and people are asked to adhere to footpath diversions which will be clearly signed.