Major conference tackles future of curlew in Wales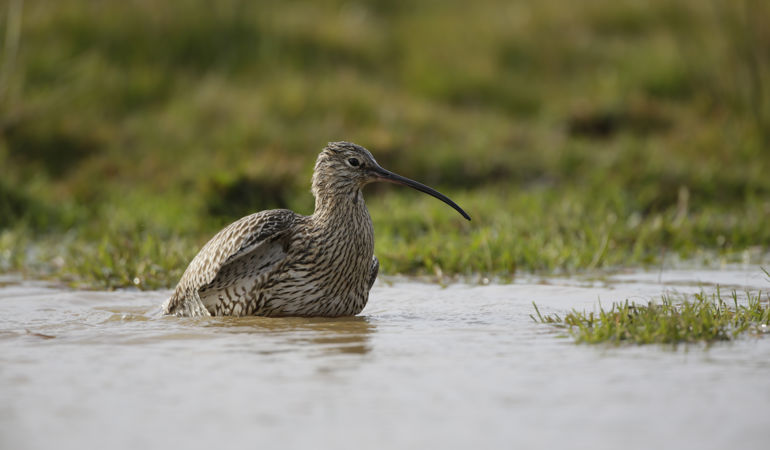 A major conference is being held in mid-Wales in the battle to help save one of Wales' most threatened birds.
There are growing fears that breeding curlews could be lost from Wales within the next few decades if its fortunes are not turned around.
Now, bird experts, farmers, conservationists, policy-makers, and land managers will gather in Builth Wells on 24 January to discuss its future and how to help it.
Natural Resources Wales (NRW) is one of the partners hosting the conference which will promote the hard work which has taken place to conserve this bird.
Curlew numbers in Wales declined by 81 percent between 1993 and 2006. It is estimated that only around 500 breeding pairs remain.
It's thought that this is largely due to poor breeding success and the loss of breeding grounds.
Conservationist Iolo Williams will open the conference and participants will hear how the bird's fortunes can be reversed if we act now.
A series of presentations on curlew projects will be followed by discussions on specific practical conservation work.
Patrick Lindley, senior ornithologist for Natural Resources Wales, said:
 "Curlews are one of the most pressing priorities for bird conservation in the UK, and it is vital that we work together to protect the remaining population and reverse these declines.
"This conference will explore previous recovery work and practical ideas that will help us develop realistic actions to improve the numbers of this iconic bird in Wales".
Fellow organiser Mary Colwell said:
"Curlews are woven into Welsh heritage. They have inspired Welsh poets, musicians and writers for generations. The call of the curlew is the sound of wild Wales. It would be a tragedy if we let them slip away when there is still time to save them."
RSPB Cymru Senior Conservation Officer, Dave Smith, said:
"There is no time to waste when it comes to curlews.
"We need to work together to develop and implement practical measures enabling farmers and land owners to provide habitat for wildlife like curlew alongside profitable operations.
"As an organisation curlews are one of the RSPB's highest priorities – this conference is a landmark event which we hope will further raise awareness of the species' plight as well as finding ways of working together to improve their status and provide them with a brighter future in Wales. If we don't act collectively now the iconic call of the curlew could be forever lost to future generations".