Llangynidr Primary School help crayfish to their new home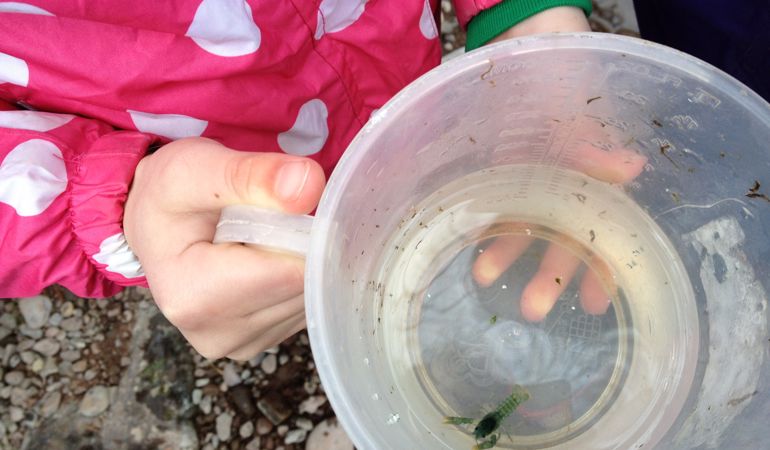 Natural Resources Wales (NRW) and Llangynidr Primary School have released crayfish into a stream near Talybont reservoir as part of an ongoing effort to help safeguard the species.
The release was planned by NRW along with the assistance of Dwr Cymru Welsh Water, The Friends of the Talybont Reservoir, Brecknock Wildlife Trust and Brecon Beacons National Park Authority.
The white-clawed crayfish is Britain's only native crayfish and has been under threat for many years.
The biggest threat is the invasive American signal crayfish which out-competes the native species and carries crayfish plague.
Climate change, habitat degradation and pollution also contribute to the issue, creating a huge negative impact on native crayfish.
The introduction of white-clawed crayfish to these sites could be vital to safeguarding the future of the species.
Work at the Natural Resources Wales Cynrig Hatchery started in 2009 investigating rearing techniques to improve crayfish production. 
Since then in excess of 4500 crayfish have been released into the Wye catchment.
School children from Llangynidr Primary School were invited to visit Cynrig Hatchery to see how crayfish and other important aquatic species are raised there.
The children were given crayfish to look after in the school aquaria for two weeks while they learned about their life cycle and the importance of protecting them.
On Tuesday 26th April 2016 NRW saw the fruits of their labour when Llangynidr School took part in the release of the Crayfish into their new home.
Oliver Brown, Fish Culture Officer, for NRW said:
"This work is important as experts believe that without intervention, there is a real risk the white-claw species could become extinct from Britain within the next three decades.
"This is a very hands on way to teach children about natural resource management and will hopefully teach them the value of nature conservation.
"NRW cares about nature and our environment and projects like this help to safeguard both."
The outing was facilitated by NRW's education team and fell in line with the school's science curriculum. 
The Friends of Talybont Reservoir very kindly paid the transport costs for the children to take part in the activities.