Investigation continues into Burton Ferry oil pollution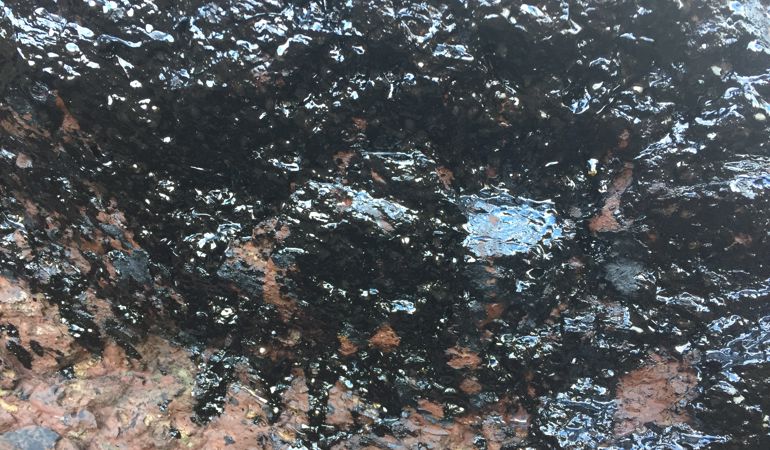 Natural Resources Wales (NRW) is looking into the cause of a pollution incident that has affected several areas along Milford Haven waterway.
Several organisations responded on Friday 7 December including NRW, Pembrokeshire County Council, The Maritime and Coastguard Agency (MCA) and Port of Milford Haven (PMH) after reports of oil at Burton Ferry.
Several tonnes of contaminated seaweed and strandline debris were removed on Friday while NRW sampled the site.
Clean up and investigation work continued over the weekend after more oil was reported at Llanreath, Pembroke River, Hazelbeach and Llanstadwell.
It's thought that the pollution is a fuel oil, the source is being investigated.
So far, around 55 birds lightly contaminated in oil have been sighted but no fatalities or distressed birds have been reported. The RSPCA have checked the area.
Robert Phillips, Team Leader for Pembrokeshire Natural Resource Management for NRW, said:
"Protecting Wales' environment and wildlife is a huge part of the work we do which is why we are contactable 24/7 in case there's an incident we need to attend.
"The oil pollution in Milford Haven is affecting a few areas and we're working hard with our partners to find the cause.
"The recent weather should help break up the oil but in the meantime, please report any pollution incidents to our 24/7 incidents line on 0300 065 3000."
Investigations into the source of pollution are ongoing.
Adam Grogan, Head of Wildlife at RSPCA, commented:
"RSPCA Cymru officers are standing by in case any oil affected birds or other animals are brought to our attention so we can provide the appropriate assistance.
"We urge if anyone spots any bird or animal in distress to contact the RSPCA on 0300 123 4999 as they are animals that need specialist care and treatment.
"We continue to liaise with Natural Resources Wales on this."