Nature reserves for all to explore, learn and enjoy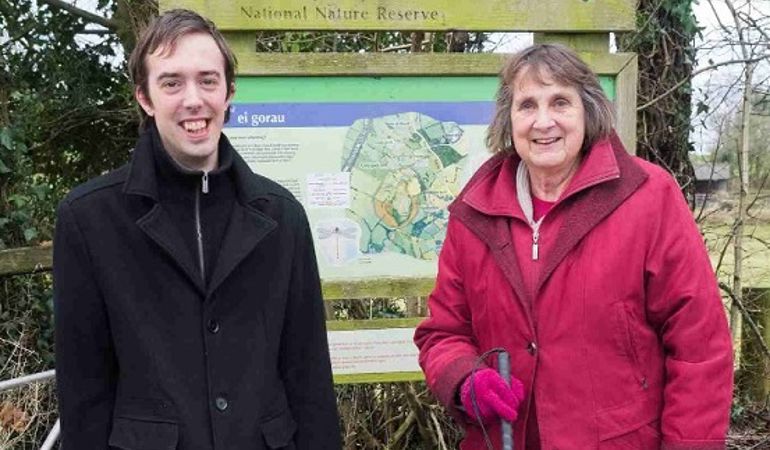 During 2014 we worked on improving accessibility at our Cors y Llyn National Nature Reserve near Newbridge on Wye, Mid Wales.
Wales has 76 National Nature Reserves (NNRs) that help protect a wide range of wildlife and landscapes. They were set up to conserve and to allow people to study their wildlife, habitats or geological features of special interest.
Today, most of our nature reserves are open to people to explore, to learn about and to enjoy.
Some of our woodland and NNR walking routes have easy access trails, and we are committed to make more of our sites accessible to all.
Improving access for all
The site at Cors y Llyn already provided a number of wheelchair routes, but we realised there was more we could do to improve and promote the outstanding wetland reserve for the disabled community.
We invited staff from Powys Social Services and members of local disability groups to visit the site to give suggestions on how to make the site safer for people with physical disability or sensory loss.
Sarah Coakham, our Partnerships Officer, explains more:
"Cors y Llyn NNR is a unique site with easy access routes, including a 500 meter route through the meadowland and mire. 
"Nobody in the group had visited Cors y Llyn before we invited them to see the site. And even though they were pleasantly surprised how accessible the site was, they helped us to identify improvements and gave us excellent suggestions on how we could promote the site and improve visitor experience.
"Even though we'd created wheelchair routes, they told us we needed to put up more wheelchair access signs to make people aware of them."
Implementing feedback
Since meeting the group, we've put up more access signs, created new wheelchair passing places and placed extra seating in the most popular areas.
One member of the group told us:
"Due to my sight problems, I can get very nervous going to new places. However, I felt very safe and comfortable at the Cors y Llyn site. It's a wonderful place to visit with lots of butterflies, lots of scents and sounds, particularly in the wildflower meadow.
I'm looking forward to using this as a location for regular day trips from now on – and sitting on all of the new seats!"
Equality Plan
Our Strategic Equality Plan outlines how we want to develop a more inclusive culture and be more responsive to our customers and staff as well as ensuring that our policies, procedures and strategies reflect Natural Resources Wales' commitment to equality. 
Derek Carpenter, Senior Equalities Advisor, said,
"The work at Cors y Llyn NNR is an excellent example of how we can work with our customers to improve their experiences in the natural environment.
"People enjoy life more if they are treated fairly, and by listening to and acting on the feedback from customers the team have worked in the way that Natural Resources Wales wants to deliver all of our services."