Fish pass improvements will help boost stocks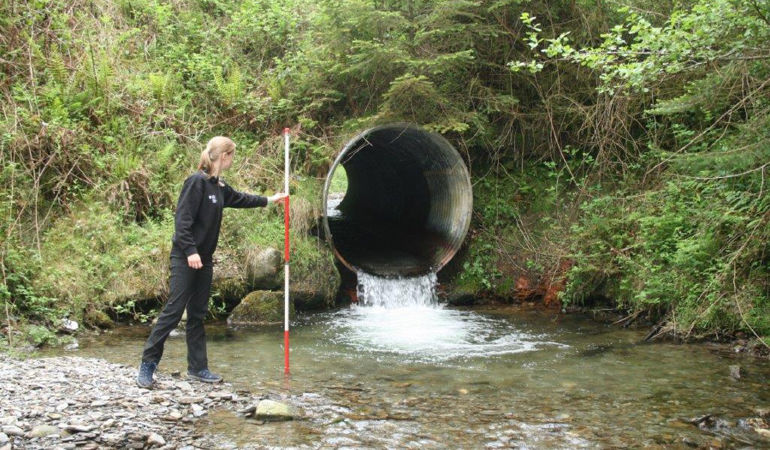 Salmon and trout now have access to an extra 6km of prime Carmarthenshire spawning grounds thanks to Natural Resources Wales' latest fish pass improvement scheme.
Dave Charlesworth, NRW's Sustainable Fisheries Project Manager, said:
"This improvement scheme on the Nant-y-Ffin, an important spawning tributary of the River Cothi, will help as many fish as possible to reach their spawning grounds boosting the numbers of salmon and other migratory fish.
"The scheme is part of NRW's ongoing work to address the decline in salmon stocks across Wales which has seen the numbers of returning salmon reach an historic low with significant reductions in young fish in our rivers and streams."
The work has been carried out by NRW's forestry and fisheries teams and involved constructing a series of weirs on the river to address problems of high velocity water flows, caused by culverts, which reduce bed and water levels downstream.
Salmon and trout struggle to jump more than 300 millimetres which restricts migration a reducing the number of fish spawning upstream.
Creating new weirs raised the water level by 400millimetres allowing fish to swim straight up a culvert pipe to the spawning grounds.
Dave added:
"The scheme is an excellent example how different teams in NRW can use the full range of their expertise to create a cost-effective solution which benefits the environment and the Welsh economy.
"Angling and angling tourism is worth millions to the Welsh economy, and we have a very important job to do in ensuring that our fish stocks are preserved for future generations.
"Of course, removing barriers to fish migration is just one way in which we can help and we continue to work with the angling community and others to make sure every fish is given the best possible chance to survive and help preserve the species."