Fforest Fawr reopens after felling operation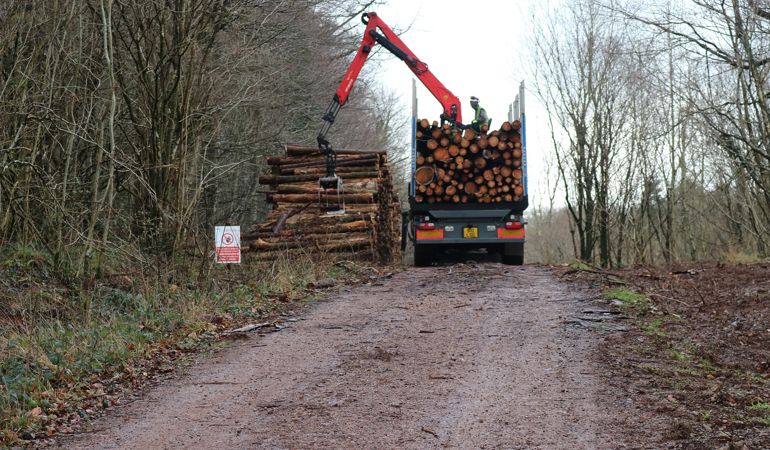 Natural Resources Wales (NRW) has reopened trails and footpaths at Fforest Fawr, near Tonygwynlais, following a major operation to remove diseased larch trees.
Approximately 4,000 larch trees have been removed from 25 hectares of the forest – an area around the size of 25 international rugby pitches. 
The forest will now be monitored as it recovers, with native tree species expected to naturally regenerate to replenish felled areas. 
Visitors will notice that felled areas have not been cleared of branches and brash. This has been left intentionally as it creates valuable habitat for plants and wildlife. 
Some of the felled timber remains stacked onsite, and the internal forest road will remain closed until this has been removed. 
NRW asks people using the forest to take care and follow the signage on site. 
The operation, which started in September 2018, was the first of two phases. The second phase will see another 25 hectares of diseased larch removed in 2021. 
Mike James, Local Area Manager from NRW said:
"Unfortunately we have no choice but to remove these diseased trees from the forest, but we wanted to make sure that parts of the forest were always open for people to enjoy. 
"Visitors will notice that it looks different, but as most of the larch sat nestled amongst other species, there remains plenty of tree cover. The extra light which is now able to reach the forest floor will encourage new trees to grow.
"We will now pause the work to allow the forest to regenerate, before moving our operations to the north-western side of the forest to remove the remaining larch.
"If at any stage we have concerns about the forest's ability to regenerate, we'll step in and consider manually replanting."
Like many other woodlands, it has been affected by larch disease, which continues to have a dramatic impact on Welsh forestry. Since the disease was first identified in Wales in 2010, approximately 6.7 million larch trees have been affected with NRW undertaking a nationwide programme to combat the spread of the disease.