Environment Minister joins 10th Anniversary of Plant!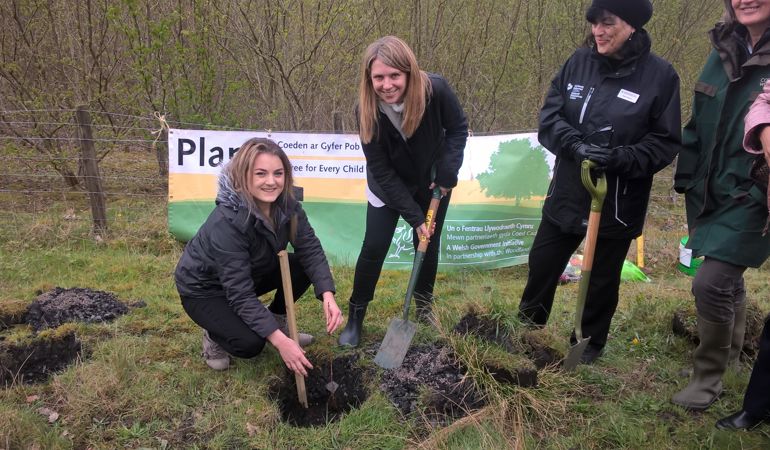 A tree-planting initiative dreamed up by a Cardiff schoolgirl celebrates its tenth anniversary this year.
In 2008 the Welsh Government made a pledge to plant a native Welsh broadleaf tree for every child born or adopted in Wales. The scheme is called Plant!
Since then, 15 new woodlands have been created across Wales, with more than 380,000 trees planted.
The original idea came from Natalie Vaughan who wrote to her Assembly Member suggesting that planting a tree would be a good way to make people think about their environment and how they can help look after it.
Natalie was at the time a pupil at Llanishen High School in Cardiff, but ten years on has moved back to Cardiff after graduating from Swansea University with a Masters degree in Communications, media practice and public relations.
Today (26 April) Environment Minister, Hannah Blythyn, joins Natalie Vaughan to celebrate the occasion by planting a tree at Abertysswg near New Tredegar in Caerphilly.
Every month, Natural Resources Wales, which runs the programme on behalf of Welsh Government and the Woodland Trust, receives the numbers of babies born and adopted in Wales.
It then arranges for a mixture of native broadleaf trees to be planted, including oak, ash, birch, cherry, rowan and willow.
Every baby is given the location of the woodland which contains their tree.
They also receive a certificate soon after their birth or adoption, stating that a tree has been planted for them.
Kate Thomson, Plant! Co-ordinator for Natural Resources Wales said: 
"Trees are an important part of our environment. They soak up floodwater, absorb carbon and other pollutants, provide a home for wildlife, help us enjoy the outdoors as well as providing a source of sustainable energy and house-building material.
"Plant! is helping to create new community woodlands for the children of Wales to visit with their families and watch them grow as they do. 
"We hope it will encourage young people to think about their environment and the role they have in managing it sustainably."
From 1 April 2014, the Welsh Government extended the programme to plant an additional tree in Uganda for every child born in Wales. This is in partnership with the environmental charity Size of Wales. 
The Minister for Environment said:
"It's great to join Plant!'s 10 year anniversary. Plant! empowers children through the gift of their own tree, encouraging children to do their bit for the environment and nurturing a greater appreciation of the world around them. The scheme will give young people a personal stake in the future of the Welsh countryside and supports one of my top priorities, to increase woodland creation in Wales
I'm delighted to meet Natalie and I look forward to seeing the trees we've planted go on to flourish!"
Caerphilly County Borough Council's Cabinet Member responsible for Neighbourhood Services for Cllr. Nigel George, said,
"We have been working closely with the Woodland Trust and Natural Resources Wales to help create a Welsh national forest of native trees. It is hoped that these trees will help children across Wales feel a personal connection with their environment. As a local authority we are committed to engaging the community to take part in environmental projects and we are proud to be a part of the PLANT! Project's tenth anniversary year."
For more information on Plant! please visit the website at https://gweddill.gov.wales/topics/environmentcountryside/forestry/plantatree/?lang=en