Cardiff parks reopen after flood scheme works finish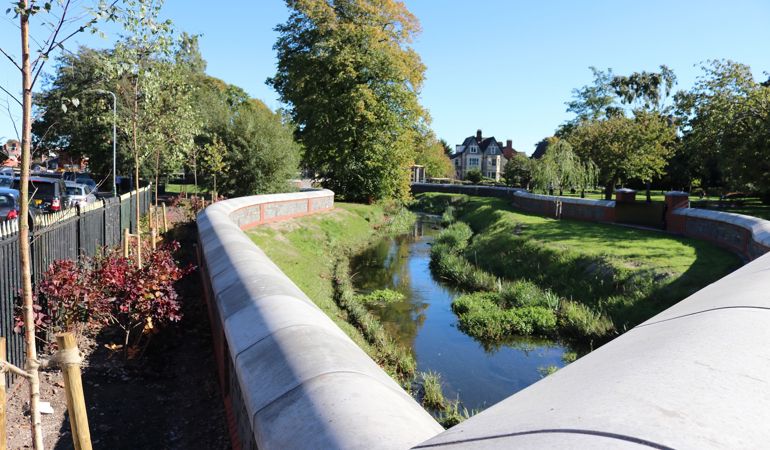 Popular parks in the heart of Cardiff have been reopened following completion of part of a scheme to increase flood protection for more than 400 homes and businesses.
The Roath and Penylan areas, through which the Roath Brook runs, have been impacted by flooding from high river flows and high tidal events several times in the past.
Natural Resources Wales' (NRW) assessment of the flood risk predicts about 200 properties have a high chance of flooding in any given year, and another 200 have a medium chance.
NRW's contractor, Dawnus, finished the works in Railway Gardens (the Sandies), Waterloo Gardens, and downstream of the footbridge in Roath Mill Gardens in September and most areas are now accessible and all paths are open.
The works included building a new bridge over Waterloo Road and new walls and embankments to protect the community from high water levels during flood events.
New paths and a footbridge have also been built, and a new feature area with a pergola and benches in Waterloo Gardens.
As part of the scheme new trees, hedges, and shrubs have been planted and new turf laid. A few areas will remain fenced off for a couple more weeks to enable planting to establish.
Tim England, Operations Manager for NRW, said:
"Flooding can devastate people's lives and the Welsh Government has given us responsibility to better protect at-risk communities across Wales.
"These parks are highly valued by local people and we've seen the passion they have for their local environment.
"We apologise for the disruption to the community over the past 20 months and thank them for their patience throughout the works, we greatly appreciate it.
"We will continue to keep them updated on the remaining works at Roath Brook Gardens and Roath Mill Gardens, which are currently still paused."
A new viewing platform has also been built from pennant stone paving in Roath Mill Gardens where the new bronze model of the old Roath Mill is located.
The model was sculpted by South Wales artist Rubin Eynon in consultation with the local community.
Further planting of trees and hedges will happen throughout the autumn, but the parks will remain open.
For more information on the project and to get the latest updates visit www.naturalresources.wales/roath