Calling all Farmers in Wales
All farmers in Wales who have waste on their land have three months to register or renew an exemption with Natural Resources Wales (NRW).
This ensures waste is dealt with in a way that does not cause harm to people or the environment.
Not registering or complying with waste exemption can lead to farmers facing  penalties.
Many farmers last registered for an exemption in 2013. These are now about to expire and need to be renewed.
Other farmers may have changed working practices since then and need to register for the first time.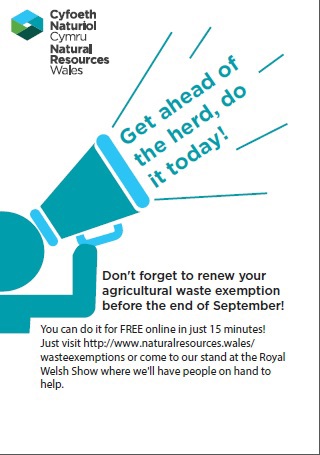 NRW says it wants to work with farmers and is making it as easy as it can to register.
But it also reminds farmers that they would be committing a criminal offence if they carry out a waste operation without having an exemption or a permit.
It has devised a simple online system to make it as easy as possible for people to register.
And although the deadline for registering is September NRW is encouraging as many people as possible to do so in July and August, avoiding a last-minute rush.
A waste exemption notifies NRW that a farmer may be handling waste, for example burning green waste or using construction waste on farm roads. 
Activities such as building tracks with rubble/stone/woodchip, using tyres on top of silage sheets, using paper bedding, burning hedge cuttings, all need to be registered.
NRW promotes best practice in farming, and can advise on practical, sustainable ways of working so that we all play our part in protecting the world we live in.
Caroline Hawkins Customer Care Manager for NRW said:
"Farmers last registered their waste exemptions in 2013 and as these will be expiring soon, we're reminding farmers in Wales to register again.
"Registration is free and means that farmers will not need a permit to deal with some waste on their farm – it's easy and free to register online.
"Contact us to find out how we can help."
Farmers can register on our website.
NRW says it should take no more than around 15 minutes to complete the form.