Barrier to fish migration removed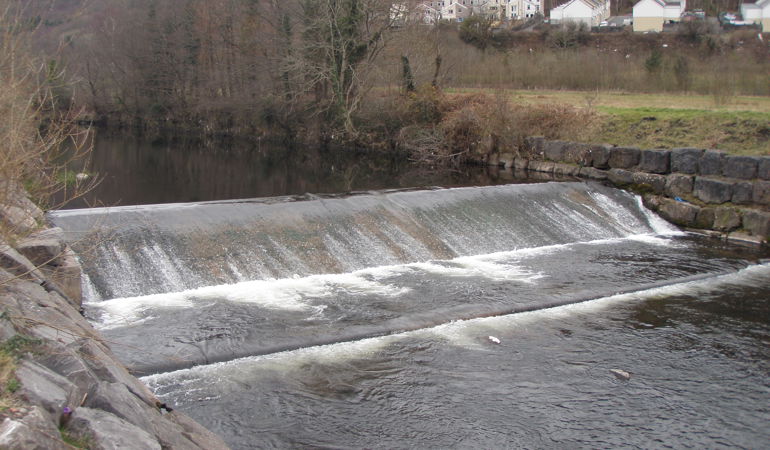 Work to remove the final major barrier to fish migration on the river Taff is set to get underway next week.
This will happen when Natural Resources Wales (NRW) starts demolishing Merthyr Vale weir in the South Wales Valleys.
This is a barrier to fish that migrate up the River Taff to spawn and produce juvenile fish.
Removing the weir will improve access to over 10km of good quality spawning and juvenile habitat on the Taff Fechan and Fawr upstream of Merthyr Vale.
For the past 15 years NRW and partners, such as the South East Wales Rivers Trust and Merthyr Tydfil Angling Association, have been working to improve the habitat in these areas and ensuring fish can pass smaller, partial barriers to migration.
Once the work is completed migratory fish, such as salmon and sea trout, will be able to swim with less delay from Cardiff Bay all the way up to Llwyn-onn Reservoir on the Taf Fawr and Pontsticill Reservoir on the Taff Fechan, if they can pass the natural falls at Pontsarn.
Removing the weir will make it easier for fish to swim upstream whatever the river levels.
A concrete sill which forms the lower part of the weir structure will not be removed.
Cutting a channel through this will allow the fish to swim upstream when river levels are low.
Another part of the work will make sure that removing the weir doesn't affect NRW's flood embankment at Aberfan.
This will prevent erosion of the riverbanks below the flood embankment which would undermine the defences.
It will also provide a boost for anglers as fish will be able to reach important spawning grounds higher up river to produce more juveniles and boost fish stocks.
Michael Clyde, Sustainable Fisheries Project Manager for NRW, said:
"An important part of our work is to improve water quality and the ecology of rivers in Wales for people and wildlife.
"In the last 15 years, we and our partners have invested millions of pounds to improve river habitats, so they can support greater populations of native fish such as salmon, trout, eels and bullheads.
"A few years ago, salmon started spawning in the upper reaches of the Taff for the first time in 200 years.
"This weir is the final remaining significant barrier to fish migration on the Taff and its removal is an important step in helping to secure the future sustainability of migratory fish stocks."
Tony Rees, Chairman of the South East Wales Rivers Trust and treasurer of Merthyr Tydfil Angling Association, said:
"Merthyr Tydfil Angling Association looked many years ago to improve access for salmon past Merthyr Vale Weir.
"We welcome the proposal to remove the weir as this will greatly improve fish passage.
"This comes together with improvements the South East Wales Rivers Trust has made in making the Taf Fechan and Taff Fawr more accessible above Merthyr.
"The Trust has also carried out and is still carrying out more habitat improvements on these rivers."
Work will begin on 29 May 2018 and will take about 12 weeks to complete.
During construction, some of the riverside paths near the site will be closed and diversions will be put in place.
Michael continues:
"We'll do everything we can to minimise disruption to the local community during the work.
"We appreciate people's co-operation and patience and apologise for any inconvenience during this time."
For more information on the project and to get the latest updates visit www.naturalresources.wales/merthyrvale.