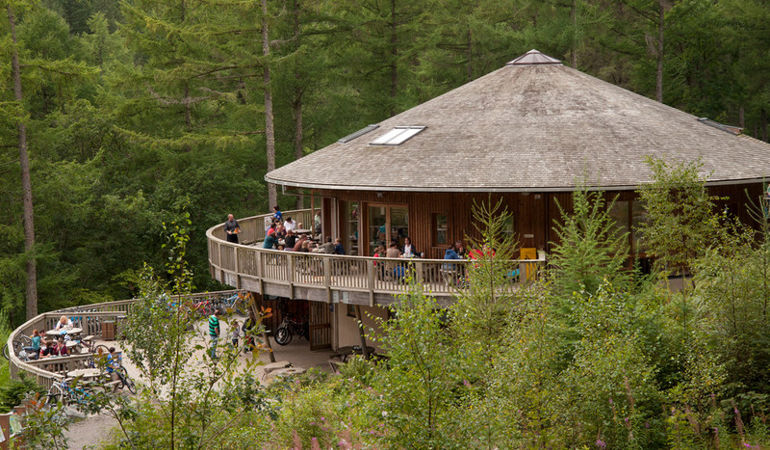 Natural Resources Wales (NRW) is inviting people to celebrate 25 years of mountain biking at Coed y Brenin.
Coed y Brenin, near Dolgellau, was the first mountain bike trail centre in the UK. It has over 200 kilometers of trails to go running, walking and mountain biking.
The 25 year milestone will be celebrated at this year's 'Trek Coed y Brenin Enduro' with a range of events and activities for every age and ability. 
Grace Sanderson, Visitor Centre Assistant, Natural Resources Wales said,
"This year marks 25 years of mountain biking at Coed y Brenin, and 10 years since the visitor centre and some of the surrounding trails were opened to the public.
"We are looking forward to welcoming locals and tourists to celebrate with us."
The celebrations are taking place Saturday 1 October and Sunday 2 October at the Coed y Brenin visitor centre, managed by NRW.
Grace continued,
"Coed y Brenin is one of the most beautiful places in Wales and we are proud to provide so many exciting trails for everyone to enjoy." 
"We hope events like this will help more people get out and enjoy our fantastic natural environment." 
The events kick off on Saturday with the 'Nippers and Rippers' mini kid's enduro. Competitors can also enter the 'Fat Tyre Revolution' race, and the women's 'Breeze' ride.
Everyone is welcome to the visitor centre on Saturday night for the Fat Tyre Revolution Party. There will be a DJ, hot food, and drinks will be available from the café until 8pm.
There will also be films, and a question and answer session with the Director of 'Mountain Biking – the Untold British Story', Pip Piper.
The Trek Coed y Brenin Enduro event will round off the weekend on Sunday with a 30 kilometer or 55 kilometer loop featuring a mix of tracks.
Full details, and race schedules are available on our website. To enter any of the 'Trek Coed y Brenin Enduro' events go to www.dyfievents.com/events/coed-y-brenin-enduro/