Underwater World of Skomer Marine Conservation Zone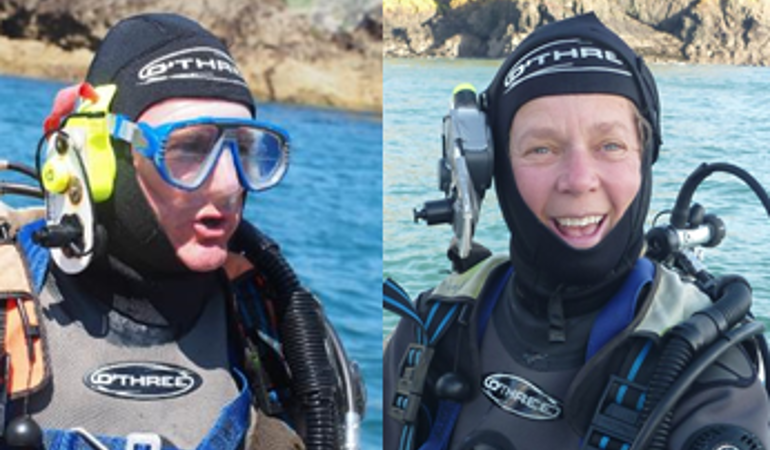 One of the main aims of our National Nature Reserves (NNRs) is to manage and protect the wide range of habitats and wildlife in Wales.

Skomer Marine Nature Reserve is no different, except that most of its amazing wildlife is hidden under water. It became a Marine Nature Reserve (MNR) in 1990 and then had a name change to the 'Skomer Marine Conservation Zone' in 2014. 
The Marine Conservation Zone (MCZ) surrounds Skomer Island (itself a National Nature Reserve) and the Marloes Peninsula, Pembrokeshire. The wonderfully scenic coast and seabed provide an abundance of different places for animals and plants to live in.
But why is this area special and why do we want to protect it?   
The MCZ is at the northern limit for many warm-water species found more commonly in the Mediterranean, like pink sea fans, red and pink soft corals and scarlet and gold cup corals.
It is also the southern limit of some northern species like the sunstar, a starfish species with 13 legs. 
This unique mix of creatures is all down to location as at Skomer the warm waters from the Gulf Stream meet the cold water currents from the Arctic. 
There are strong tidal currents around the island, rich in plankton (the start of the food chain), allowing many species to thrive. 
The animals which are attached to the seabed, like anemones, sea firs, sea squirts and mussels, feed on the plankton. They then provide food for mobile animals like starfish, urchins, fish and lobsters.  
The homes vary from steep rocky reefs, dense forests of seaweeds to rich sediment communities providing a wide diversity of life. 
This wealth of life feeds the thousands of breeding seabirds found on Skomer Island and a healthy population of Atlantic Grey seals.   
Underwater monitoring programme
In order to protect the marine environment for future generations, we need to understand how and why the environment changes.
We have a team of four NRW marine biologists who are based at Martins Haven, and they are all qualified as scientific divers. Our main job is to map, survey and monitor the marine habitats and species living in the MCZ so we can gather evidence and information on the health of the marine environment. 
Volunteer divers play a vital role
Some of our surveys like territorial fish, sea urchins and eelgrass (which is a ribbon like marine grass) are designed specifically for experienced and enthusiastic volunteer dive teams.
A volunteer survey is run each year over two weekends, and have proven to be a great way to collect large amounts of data.
This year it was the turn of our scallop population survey, and it is a particularly important one.
Scallop and sediment habitat surveys
Scallop dredging, and the removal of scallops by any means (including by hand), was prohibited in Skomer MCZ when it became a reserve.
We held the first volunteer diving scallop survey in 2000 in order to find out how the population has changed since the 1980s and this has been repeated every 4 years.
Results show that the population had increased and the sediment habitat now supports an increase in other wildlife since the site was designated 26 years ago.
At first glance sand, gravel, mud and broken shells (sediment) habitats appear deserted. But look a little closer and you will start to notice signs of life.  
Animals that live here are either brilliantly camouflaged to help them stay alive, or they survive by burrowing beneath the sediment;  creatures like worms, burrowing anemones and tiny shrimp-like creatures called amphipods.  In fact, over 1000 species have been identified living in the sediment habitats around Skomer, establishing it as one of the most diverse locations in the UK.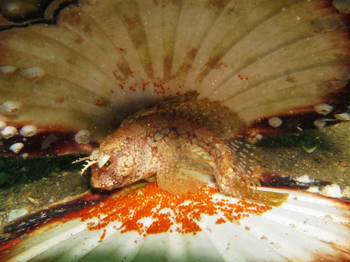 Scallops themselves are also considered as 'micro habitats' as they have a whole host of animals attached to their shells. This includes barnacles, sponges and sea squirts. Even dead scallop shells provide homes to numerous species of crabs, brittlestars, and baby sea urchins. 
They are also a favourite with a small marine fish called butterfly blennies, because they can coat the inside of the shell with their eggs and then hide inside to safely look after their brood. 
Important long term marine monitoring datasets
The Skomer MCZ is home to the most comprehensive marine species and community monitoring programme in the UK.  
We also monitor the weather and water conditions like sea temperature, which influence the wildlife of the site.  Our biological programme gathers evidence and information on life on the shores and underwater allowing us to report on the health of the marine environment. 
All this work informs our approach to how we can best guide people towards using and enjoying the marine environment in the area without damaging it.
Just as with National Nature Reserves on land, there need to be areas where natural marine habitats are protected to support healthy marine communities and wildlife.