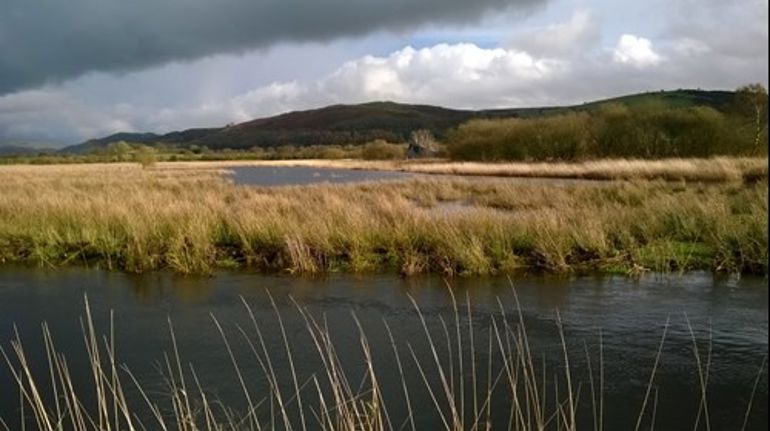 Today (2 February 2016) is World Wetlands Day, a day to raise awareness of the importance and value of wetlands. This year's theme is Wetlands for our Future: Sustainable Livelihoods.
Wetlands are not only home to rare plants and wildlife, they play a vital role in ensuring that we have a future that is sustainable, and provide many of the things which society relies upon.
They retain flood water, purify it, and help the rural economy by bringing areas of largely unproductive farmland land back into use as grazing.
Wetlands also have a key role to play in the battle against climate change. With the potential for drier summers, managing wetlands is vital, because in peak condition they can capture and store massive amounts of carbon that would otherwise be released into rivers and the atmosphere.
Some wetlands are only seasonally flooded or waterlogged, such as marshy grassland. Others, such as our peat-forming wetlands, are wet all year round.
Wetlands in Wales
Wales is home to many types of wetlands including fens, bogs, grazing marshes, swamps, marshy grasslands and of course lakes, ponds and rivers.
Wales' upland wetlands, in particular the blanket bogs that stretch all the way along the upland spine of Wales, provide dramatic wild open spaces and contribute much to the character of the landscape.
Many of them are also National Nature Reserves, which we manage to restore and conserve their natural features for plants and wildlife to live. Easy access along board walks and paths also make them great places for people to visit and enjoy.
Natural Resources Wales works closely with thousands of landowners and other organisations to restore and maintain many of our nation's wetlands.
North Wales
The LIFE Project has restored approximately 1,850 acres (the size of 1,000 football pitches) of wetland fens on Anglesey and the Llŷn Peninsula. This is one of the largest and most ambitious of its kind in Europe and is funded by the EU.
It consists of 11 Sites of Special Scientific Interest (SSSI), four of which are also National Nature Reserves – Cors Bodeilio, Cors Erddreiniog, Cors Geirch and Cors Goch. They provide flood retention, water quality improvement and make more land available for grazing.
Mid Wales
Cors Caron, near Tregaron covers a huge area of over 800 hectares and 6 km in length. It is home to a wide range of wildlife and plants. The reserve boasts three raised bogs - areas of deep peat that have built up over the last 12,000 years – and these, in turn, are surrounded by a complex and unique mix of habitats.
With boardwalks (3.5 km) - accessible for wheelchair users, surfaced paths (6 km) and a riverside walk (7.5 km) there's an adventure for everyone to enjoy. The abundance of insects provide a valuable source of food for birds and mammals. Otters, water voles, water shrews and polecats can be found on the reserve.
South Wales
The Crymlyn Bog is a haven for wildlife between industrialised East Swansea and Neath Port Talbot. It's the largest lowland bog in the UK and has fascinating and diverse wildlife, including the rare fen raft spider – Britain's largest – and various birds of prey.
The Newport Wetlands National Nature Reserve bustles with a variety of birds visiting from a colder climate. Coots, egrets and herons are common sights on the reserve's reedbeds. The rare golden-eye duck, short-eared owl and merlin are also visitors. There is a three kilometre network of paths around the reedbeds which are easy to walk, cycle and suitable for wheelchair users and pushchairs.
To celebrate World Wetlands Day a walk will take place at Newport Wetlands on Tuesday 2 February 3:30 - 5:30pm.
The Llanelli wetlands, managed by The Wildfowl & Wetlands Trust is a 450 acre mosaic of lakes, scrapes, pools, streams and lagoons adjoining the salt marshes and shore of the scenic Burry Inlet. The range of habitats makes the 450 acre site a refuge for many different plants and animals with tens of thousands of migratory birds visiting every year.
The LIFE Natura 2000 Programme
Wales has some of the best lowland wetlands in Europe, 11 of which are specially protected as Natura 2000 sites.
The LIFE Natura 2000 Programme has produced costed action plans for every Wetland Natura 2000 site in Wales, planning for the future and helping to obtain vital funds.