We've tested our website with customers using Gerry McGovern's Top Tasks method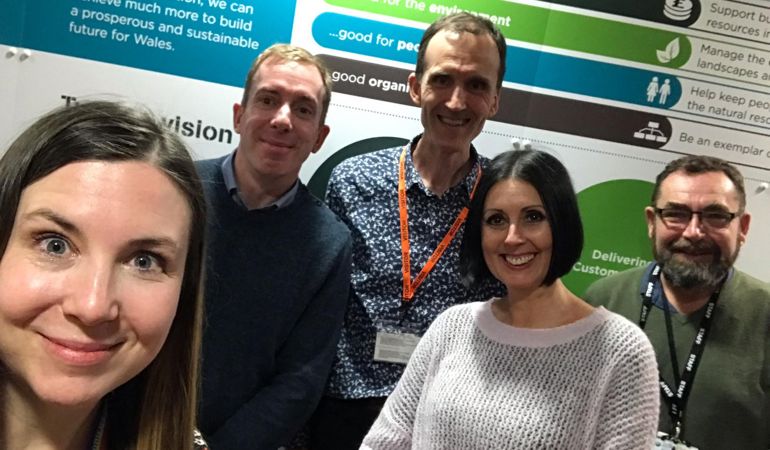 Hi, I'm Sam, a content designer in the Digital Team here at Natural Resources Wales. We recently finished our very first round of website testing using Gerry McGovern's Top Tasks method. Gerry is a leader in helping large organisations improve online customer experience, so we were very excited to be working with him. Find out more about what we did and what we learned.
Identifying the tasks
When we re-developed our website a couple of years ago, we tried to design the homepage around the top tasks that people contact us or come to our website to do.
Shaun (Content Designer) re-visited these and started work on identifying 12 'top' tasks – the tasks that really matter to our customers. The scope of our work is wide so task topics ranged from flooding to waste and days out in Wales to marine guidance.
Our customers
We needed a sample of customers to test the site which represented our customer mix.
Working with stakeholder groups and Customer Care Centre I was able to select 18 willing customers from the water, waste, energy, farming and forestry industries, as well as people with no professional link with us.
Testing
Shaun and I facilitated the test sessions over a three-week period, taking turns to score or ask the task questions. Each session lasted one hour, through Skype, was recorded and observed by the whole team – Phil (Digital Designer), Owain (Digital Support Officer), Alison (Digital Support Officer) and Heledd (Digital Manager).
Seeing our customers struggle with some of the tasks was difficult to begin with, but it was really important that Shaun and I didn't offer help. The testing had to be fair and consistent.
By the end of the three weeks, we had a huge amount of information and recordings for us to think about, and for Gerry to analyse.  
What we learned
Gerry visited us to present his findings and recommendations for improvement. Colleagues from across the organisation were involved in the session and we've since shared a video of the day organisation-wide.
What's been really powerful is seeing recordings of customers struggling to use the website. It's really helped build empathy for the customer across the organisation and a momentum for change.
We now have an overall set of recommendations for navigation, search, maps and content. And we have task-specific recommendations for things we can do to improve website performance for each task. 
We know we can't make improvements to our website without involving our customers so we'll be re-testing the top tasks in a year's time. 
What next?
There's lots of work to do and we'll keep you informed.
We don't get enough feedback on our site right now, so we've introduced a new quick and easy feedback tool. See the neat tab at the side of each web page and keep giving us your honest opinion so that we can make things better.