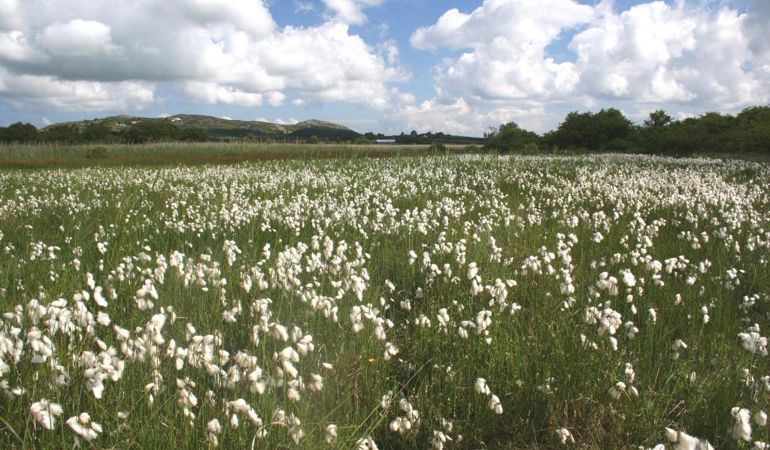 Peatlands are one of Wales' critical natural assets, with a fascinating environmental history and an important role in securing the future resilience of our environment.
NRW is working closely with Welsh Government to help to achieve their commitment to restore all peatland areas supporting semi-natural habitat in Wales (c. 66,000 ha) by 2020. We are delighted that our collaboration with government and other stakeholders to secure the future of our peatlands will feature in the programme for the NRW board this week, including a visit to Cors Erddreiniog National Nature Reserve.
Dr. Peter Jones, NRWs Senior Peatland specialist says
"The management and restoration of our peatlands brings multiple benefits for the environment and people of Wales. There is a direct relationship between the ecological health of peatlands and their importance for nature conservation, and their capacity to minimise the impact of climate change. Peatlands in good condition and actively forming peat are associated with the lowest carbon emissions."
NRW has made considerable progress with conserving and restoring Welsh peatlands.  Sites of Scientific Interest include approximately 47,440 ha of deep peat, with 13,500 ha included in management agreements but approximately 70 percent of this resource remains in unfavourable condition.
We have contributed to or led two major LIFE projects for peatlands, and others are being developed. 
There are 22,100 ha of peatland habitat within our EC Special Areas of Conservation, and we are already supporting significant restoration across many of these sites, including our 15 peatland National Nature Reserves.
"Evidence is essential for the management and restoration of our environment" say Dr. Catherine Duigan who leads the NRW Evidence Analysis Group.
"Our National Nature Reserves are open-air laboratories which provide the opportunity to carry out the necessary scientific investigations to underpin our advice and restoration operations. They are also a very important educational resource. At Cors Erddreiniog we have been working closely with the Centre for Ecology and Hydrology and Bangor University to monitor changes in the environment and the wetlands are used for undergraduate fieldtrips and post-graduate investigations."