Leave no trace in woodlands and nature reserves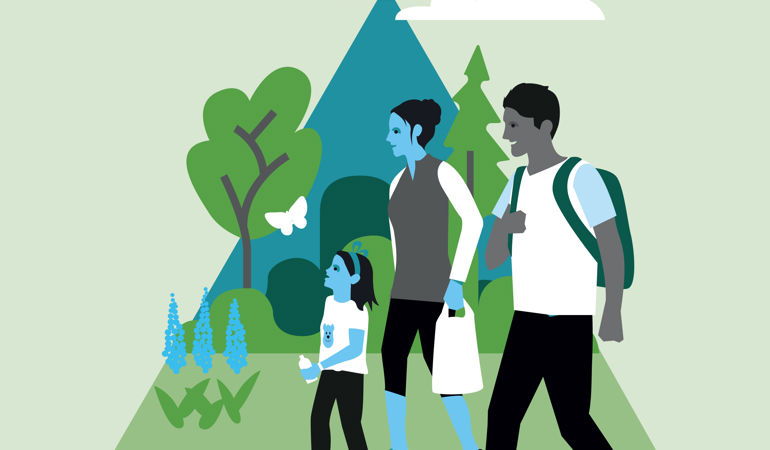 We manage many fantastic sites across Wales where people can get outside and enjoy the natural environment - but enjoying the countryside comes with responsibilities too.
Joe Roberts, Lead Specialist Advisor: Outdoor Access and Recreation, tells us more...
With great nature comes great responsibility
Who hasn't been annoyed to see rubbish lying around, dog poo left on paths or poo bags hung on trees when out for a walk?
To help deal with the problem of litter and dog poo, we ask all visitors to follow the advice in the Countryside Codes to keep our places special for both wildlife and people.
This means that everyone should take their litter and bagged dog poo away with them at the end of their visit if there is no bin on site, or if the bin is already full.
Many people already do this, and we are grateful for their care towards the environment.
But we have seen increasing amounts of rubbish and dog poo left at our sites over the last few years which can harm wildlife and people alike, and take up an increasing amount of staff time dealing with it.
Because of the large number of sites we manage – about 7% of Wales's land area - and their rural locations, it is not possible to have bins and frequent rubbish collections at all of our sites.
Aren't more bins the answer?
We are often asked why we don't have more bins, but having more bins doesn't solve the solve the problem.
We have found over the years – and many other organisations would agree – that providing more bins doesn't necessarily lead to a reduction in the amount of litter left.
The bins at our visitor centres and paid car parks quickly become full to overflowing on busy summer days, with rubbish left piled up around them which can get blown around in the wind or scattered by animals.
In fact, it seems the presence of a bin can be seen as an advertisement by some people to leave their household rubbish rather than disposing of it properly, which only multiplies the problem.
Even where dog waste bins and clear signage are provided - such as at our visitor centres - we have seen an increase in the amount of dog poo left around car parks and on trails because of people's attitude towards it.
Why does dog poo need to be dealt with?
There is a tendency for some people to think it's ok to leave dog poo on the ground because it's natural and nature will deal with it in time.
This may be true, but while it is decomposing it has the potential to cause infections in other dogs and in people, and it remains thoroughly unpleasant for everyone walking by it.
It is also myth that nitrogen in dog poo is always good for the soil.
Some of our sites, especially some National Nature Reserves, need soil that is poor in nutrients for the specialised plants that live there to thrive. Dog poo in quantity can change the nature of a site and the kind of plants that are able to live there.
Bag it and bin it - any bin will do
We ask dog owners to follow the Dog Walking Code and our Visiting with Dogs activity statement and deal with their dog's mess by bagging it and binning it. If there isn't a bin on site, we would like people to take it away with them and bin it elsewhere.
Not everyone is aware that dog poo doesn't need to go in a special dog waste bin. It can be disposed of in any general waste bin, including people's own bins at home.
Tips for dealing with dog poo
If you're a dog owner, there are several things you can do to make it easier – and more pleasant - to deal with your dog's poo:
Attach poo bags to your dog's lead so you don't forget to bring them

Use a pooper scooper if you don't like touching it

Bring an odour-proof container to carry full poo bags in - an old ice-cream tub would do nicely

Plan where you are going to bin it – could you put a bin in your garden at home?

And, for a clearer conscience, use compostable bags to reduce the amount of plastic going to landfill
Whatever you do, don't hang full poo bags on a tree or leave them on the ground for collection later - you might forget to pick them up and make the situation worse by adding plastic pollution to the problem too.
Reducing plastic pollution
You might feel a long way from the sea in one of our forests, but binning litter and bagged dog waste helps to reduce plastic pollution by keeping rubbish out of our rivers and, ultimately, the oceans.
And if you bring less plastic with you in the first place, there is less chance of accidentally dropping any litter and you'll have less to carry away.
If you're planning a picnic at one of our sites (and why not? They're great places to enjoy being outdoors) you could take food out of excess packaging before you come, use reusable containers, and take any recyclable packaging back home afterwards to be cleaned and recycled.
How to leave no trace of your visit
It's simple to get into the mindset of leaving no trace of your visit:
Don't expect there to be bins at all of our sites, especially the quieter ones

Be prepared to take away whatever you bring

Think about reducing your waste before leaving home
By following this approach, you will be helping to look after the sites you enjoy visiting, the wildlife that makes its home there, and be respectful of other people too.
Related document downloads