Woodland creation secures farm's future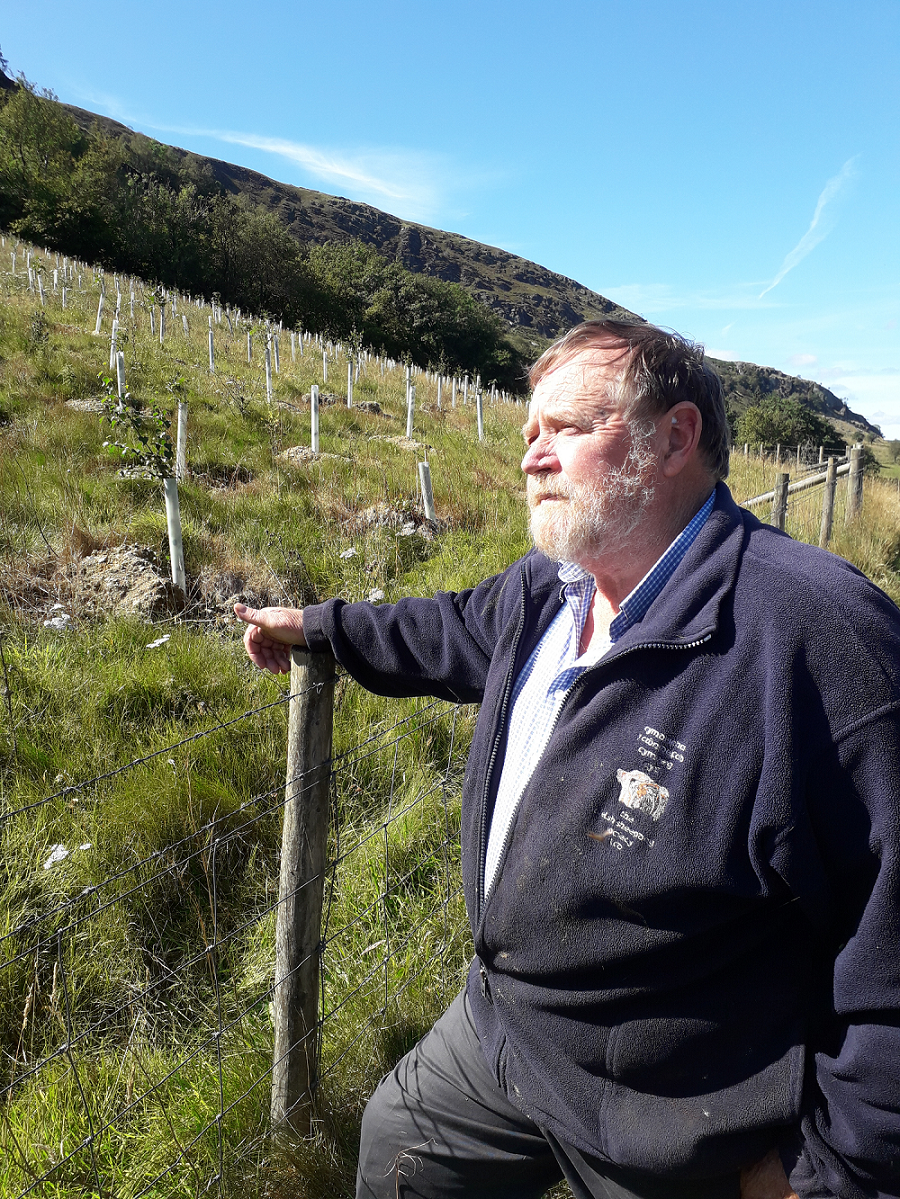 A sheep farmer from Powys has embraced the changing face of farming and planted trees to provide a new income stream and help the environment. 
In March this year, Derek Morgan from Safn Coed farm near Llangurig, Powys, planted 50000 trees on 18 hectares of his 80-hectare farm, through the Welsh Government's Glastir Woodland Creation scheme.
As well as providing a source of income for twelve years, the trees help to alleviate flooding, combat climate change by storing carbon and provide a habitat for wildlife. 
Natural Resources Wales (NRW), who ensure Glastir Woodland Creation proposals meet exacting standards, worked with Derek and his Llandovery based agent, Alan Wilson MICFor of Tilhill Forestry to devise a planting plan that enhances the local landscape. 
The higher and steeper parts of the holding have been planted with a mixture of broadleaf such as oak and birch and conifers, such as Sitka Spruce. 
This will add to the farm's existing woodland habitat, extending the valley's existing corridor of mixed woodland types and provide a sustainable source of income from timber in the longer term.  
Within 12 years, the first crop thinnings will provide small diameter wood both for on-farm use and off-farm sale.  
Planting, maintenance and eventually felling will provide local employment. 
The planting was carried out by Tilhill Forestry following receipt of an initial Woodland Creation planting grant, which will be bolstered by an annual maintenance grant for a twelve-year period.  
Derek Morgan said: 
"My grandfather bought Safn Coed in 1947 and I've lived here most of my life. The small family farm is the backbone of Welsh farming life and I want to retain that and keep the farm in the family.  
"Sheep are not as profitable as they once were and the farm wouldn't support a family as it is now, so I'm diversifying.   
"I chose to plant trees as a long-term investment. I'm not getting any younger and replacing some of my sheep stock with a marketable timber crop will ease my workload, as I am beyond retirement age, and protect the family farm. 
"Fifty years ago, I was paid to clear this land, as the post war focus was on maximising production to become, as a country, self-reliant on food. 
"Today, the challenges we face are different. Farmers are fully aware of climate change and this scheme gives an opportunity to help to combat climate change by locking up carbon from the atmosphere and helps to reduce the risk of flooding. 
"It's horses for courses. If it suits your farm enterprise, go for it – the reward is both financial and environmental. 
"We're lucky here – we've always had red kites. The newly planted trees will enhance the bird population and hopefully we'll see more hares too." 
Llinos Roberts, NRW Woodland Programme Advisor said: 
"Woodlands provide multiple benefits to the environment. They help to reduce noise pollution, improve air, soil and water quality, provide shelter for livestock and mitigate flood risk. 
"In addition, not only is timber a sustainable and renewable resource, but our woodlands are known to improve our health and wellbeing by providing recreational opportunities and are havens for all kinds of biodiversity. 
"Glastir Woodland Creation ensures that the right tree is planted in the right place in a way that acknowledges existing sensitivities, and NRW plays a central role in this process. 
"NRW works with each applicant to ensure that any new planting safeguards wildlife and the environment, enhances the local landscape and carefully manages our natural resources."