Natural Resources Wales volunteer rescues important Pembrokeshire seabird fledglings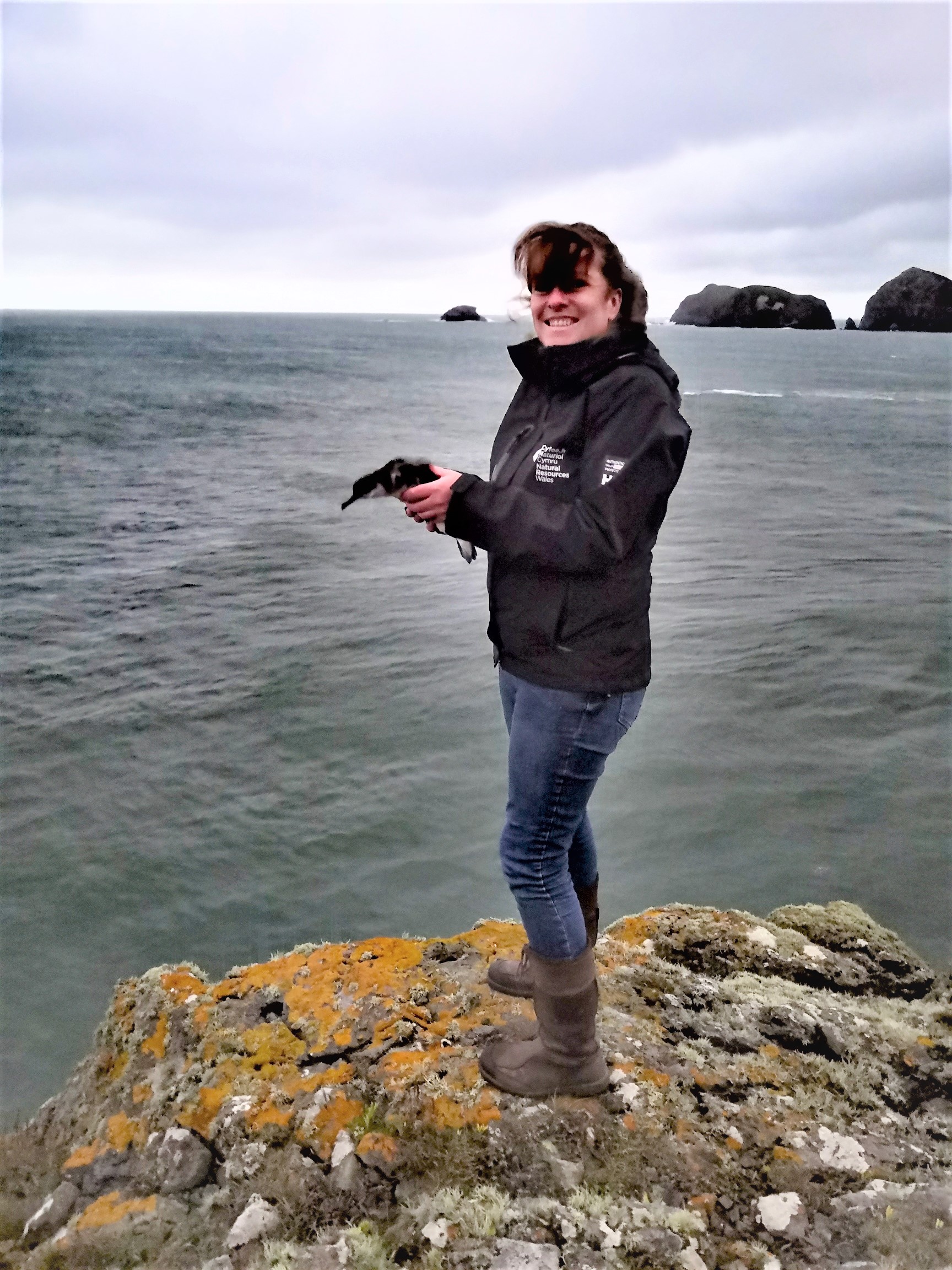 A specialist advisor in marine ornithology for Natural Resources Wales is also a volunteer helping with the rescue and safe release of Manx shearwater fledglings, an important seabird in Pembrokeshire.
Nia Stephens has been part of the team of volunteers coordinated by RSPB and the Wildlife Trust of South and West Wales for four years. The volunteers collect and release manx shearwaters across south and west Wales.
She has a background in seabird conservation and has worked on Ramsey and Skomer islands in the past, so she's familiar with handling seabirds and is passionate about their conservation. 
Over half of the worlds' population of manx shearwaters are born and bred on the Pembrokeshire islands of Skomer, Skokholm and Ramsey.
From September, the fledglings begin their 7,000 mile migration to the waters off Argentina, South America. This often coincides with autumn storms and some birds can get blown ashore and stranded on land. 
Last year Nia collected manx shearwaters from as far afield as Maenclochog, Llandovery and Abergwili, and released 18 manx shearwaters and two gannets in total. This year so far she has already released four manx shearwaters and two guillemots back to sea.
Nia Stephens said:
"Members of the public collect the birds and my role is to release them back out to sea as soon as the weather allows. When possible, we release them at sea from a boat, but often it's from a cliff top at the end of the St Davids peninsula.
"Although we don't know how many of the birds that are blown ashore survive after being rescued and released, I think it's still a worthwhile thing to do as there's always a chance that some of them will survive if they can get back out to sea."
Greg Morgan, RSPB Site Manager, Ramsey and Grassholm, said:
"Manx shearwaters should by rights be seen as the National Bird of Wales! Pembrokeshire alone is responsible for over 50% of the world's population but, being nocturnal on land, many people don't realise just how important our marine habitat is for this species. Increasing storms around fledging time, along with expanding coastal development bringing more light pollution, could have negative impacts on this species in the long run. As well as helping those individual birds affected each year, this project aims to raise awareness with the general public about this often overlooked species."
Lisa Morgan, Head of Islands and Marine, Wildlife Trust of South and West Wales said:
"Our team of volunteers has grown to become the on-call 'emergency service' for wrecked Manx shearwaters across south and west Wales. The Wildlife Trust are custodians of the largest breeding populations of these birds anywhere on earth, with 350,000 pairs on Skomer and 89,000 pairs on Skokholm Island. As such we are extremely grateful for help on the mainland during the autumn when young birds can become disorientated as they attempt their maiden flight."
Manx shearwater factfile
Although it lays only one egg a year, shearwaters can have long lives and breed for many years. The longest living was recorded at over 50 years of age.
Chicks grow larger than their parents - before getting to "flight weight" to make their first, solo journey to South America - before returning to Skomer as adults.
Two weeks before they actually fledge, their parents will abandon them and stop feeding them altogether and in this time they turn all that fat and food into feathers and muscle. They then take off without their parents, having never left their burrow before, and fly off to Argentina.
What to do if you find a stranded manx shearwater
If a member of the public finds one of these black and white seabirds, they're asked to place it in a ventilated cardboard box.
If they have found more than one bird, place them in separate boxes.
Then phone the area contacts below to arrange delivery or collection.
The birds will be stored safely at designated collection points and released at dusk.
| Location | Contact details |
| --- | --- |
| St Davids / Newgale | 01437 721721 or 720285 |
| Fishguard | 01348 874737 |
| New Quay | 01545 560224 |
| Mid Pembs (Broad Haven to Pembroke inc Haverfordwest and Milford) | 07766 911069 or 07944 995736 |
| Pembroke / South West Pembs | 07572 642434 |
| Tenby / South East Pembs | 07867 803005 |
| Aberystwyth | 07972 201202 |
| Carmarthenshire | 07748 970124 |
| Cardiff | 07890 543351 or 07791 502589 |