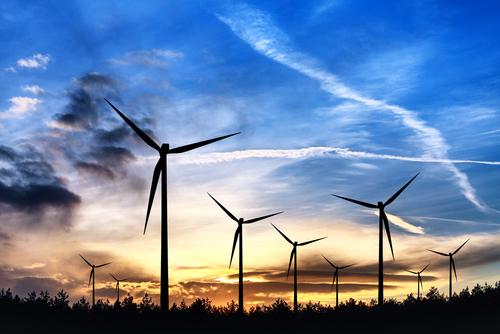 Wind Energy Programme
The Natural Resources Wales Wind Energy Programme aims to integrate wind farm development into the sustainable management of the Welsh Government Woodland Estate.
The Wind Energy Programme works with selected Developers (Option Holders) to deliver approximately 75% of the Welsh Government's onshore wind energy target.
Wind Energy Projects
The following section provides updates on the progress of each of the Wind Energy Projects as of October 2017.
Clocaenog Forest (up to 32 turbines / up to 96MW)
Developer – Innogy Renewables UK Ltd
Innogy Renewables UK Ltd are currently working on discharging planning conditions prior to a projected start to construction in early 2018. The forest remains open to the public under normal access arrangements at present, with only localised disruption from routine NRW forest operations and roads maintenance.
For more information on this Project please visit the project page at Innogy Renewables UK Ltd
Dyfnant Forest
Dyfnant Forest is within Welsh Government's Strategic Search Area B and NRW is keeping the vacant Option under review.
Nant y Moch
Developer – Vattenfall
Vattenfall hold the Option Agreement for SSA D - Nant  y Moch and continue to explore the potential of the site within the area covered by the Option Agreement. 
Brechfa Forest East
Brechfa Forest East is within Welsh Government's Strategic Search Area G and has a Planning Authority consented onshore energy scheme.
NRW is considering the best way forward for realising this development.
Brechfa Forest West (up to 28 turbines / 57.4MW)
Developer – Innogy Renewables UK Ltd
The construction phase is progressing well on site. All turbine foundations are now in place and the works were completed in August 2017. Turbine deliveries commenced in June 2017 and are programmed to continue through until late 2017. The substation building works are complete, the electrical fit out has commenced and cabling works are progressing on site.
As of 18th September 2017 one turbine has now been fully erected, with planned works now focusing on the erection of further turbines, weather permitting. The aim is to commence generation before the end of this year.
The temporary Public Rights of Way (PRoW) closure is now in place, with alternative footpaths available for use.
For more information on this Project please visit the project page at Innogy Renewables UK
Pen y Cymoedd (76 turbines / 228MW)
Wales's largest onshore wind farm is now fully operational. Natural Resources Wales is working closely with Vattenfall personnel on site to complete reinstatement and enter into the operating lease period for 25 years. Pen y Cymoedd expects to produce enough power annually to meet the electricity demand of more than 188,000 UK households, and will more than meet the domestic demand of host local authorities Rhondda Cynon Taf and Neath Port Talbot. Over the lifetime of the project it is expected to save 6.4 million tonnes of CO2.
Vattenfall is also constructing a battery storage scheme on site. The 22MW system – believed to be the largest co-located battery and wind farm project in the UK – will provide a rapid-reaction grid reliability service to National Grid, known as Enhanced Frequency Response.
To gain a better understanding of the site and to see some of the work that has already taken place, some aerial footage of Pen y Cymoedd is available to view.
Pen y Cymoedd Wind Farm Community Interest Company have now been set up to administer the Community Fund. More information can be found here: https://penycymoeddcic.cymru/home/.
Whilst public access is still allowed within the forest area, walkers and mountain bikers are encouraged to look out for banksmen, signage and noticeboards which convey information about onsite activity. Working areas can be found on the updated map.
For more information on this Project please go to the Vattenfall Project page.
Contact Us
If you have any questions about the Wind Energy Programme or Projects, please e-mail: energydeliveryprogramme@naturalresourceswales.gov.uk