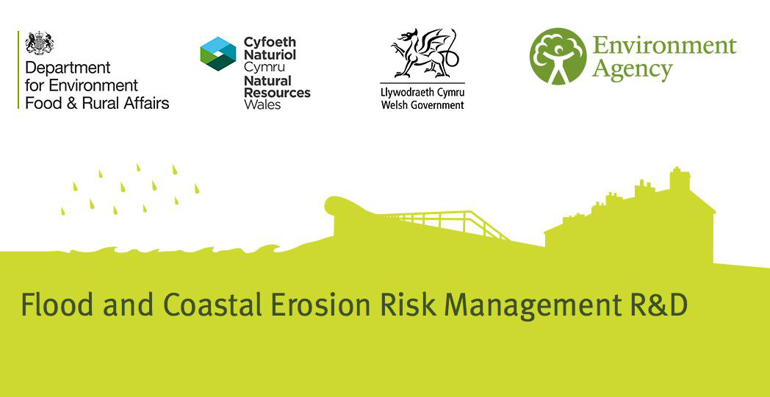 Flooding is one of the biggest natural hazards affecting the safety and sustainability of communities across Wales.
Evidence suggests that changes in our climate will result in heavier and more regular rainfall, stormier weather events and rising sea levels. These factors are likely to increase the impact and frequency of flooding and we need to be prepared. We need to ensure that our decisions, operations and advice to Government and others are underpinned by sound and quality-assured science and evidence.
Flood and Coastal Erosion Risk Management Research and Development Programme
To help meet our science and evidence needs, we work in collaboration with the Welsh Government, Environment Agency and Defra on the joint Flood and Coastal Erosion Risk Management (FCERM) Research and Development programme. To find more information about the programme, click here.
The programme, covering England and Wales, aims to serve the needs of all flood and coastal operating authorities by providing key evidence to:
inform the development of policy and strategy
understand and assess coastal and flood risks
manage flood and coastal erosion assets in a sustainable way
prepare for and manage flood events effectively
Current projects
Current active projects that support our national flood risk management evidence / research needs include:
Completed projects that also support the delivery of our national flood risk management evidence / research needs include:
Other research opportunities
We also work alongside the Welsh Government to seek additional opportunities to meet gaps in knowledge and evidence, for example through research council grants or by working with universities linking research activities with NRW programmes of work.
Recent examples are projects funded by the Natural Environmental Research Council (NERC), where we have worked with others to support these projects and provide case studies:
Green infrastructure – supporting implementation in river engineering (hyperlinks to follow)
A Decision Framework for Integrated Green Grey Infrastructure (hyperlinks to follow)
Implementing knowledge gained from the outputs of these and other projects will ensure NRW continues to base its decisions making on the best available science and evidence. We will continue to improve our knowledge of emerging science and the practical implementation of new and alternative FCERM measures by identifying the information gaps and evidence needs, and, support future research that helps to address these.
If you have any enquires, please contact us;
Customer Care Centre 
Tel: 0300 065 3000 (Mon - Fri, 9am - 5pm) 
Email : enquiries@naturalresourceswales.gov.uk
By post
Natural Resources Wales
c/o Customer Care Centre
Ty Cambria
29 Newport Rd
Cardiff
CF24 0TP